This is the second part of our investigation on animal abuse. This is much closer to us than what we might think.
During the end of year festivities, Strasbourg, European capital but especially capital of the world of the Christmas market, has organized many activities to satisfy numerous tourists and incidentally fill the pockets of the merchants.
And to go even further in the joy of children, the city hosted the circus Bouglione renowned for over thirty performances:
Jugglers, acrobats, clowns, all these people were there to amaze our little darlings. And the show is really creative and amazing, if Bouglione people have decided it was enough. But no, we must continue the circus games, not those that are held in Strasbourg, not those that took place in the arenas of ancient Rome. We must maintain this tradition of millennia and present to curious children and jaded adults the superiority of man over nature. The play Bouglione has proposed for many nights could be called: man versus beast! Or how our so perfect intelligence can tame any wild animal, can make him do things he would not have thought for one second in his natural environment.
Watch this feat: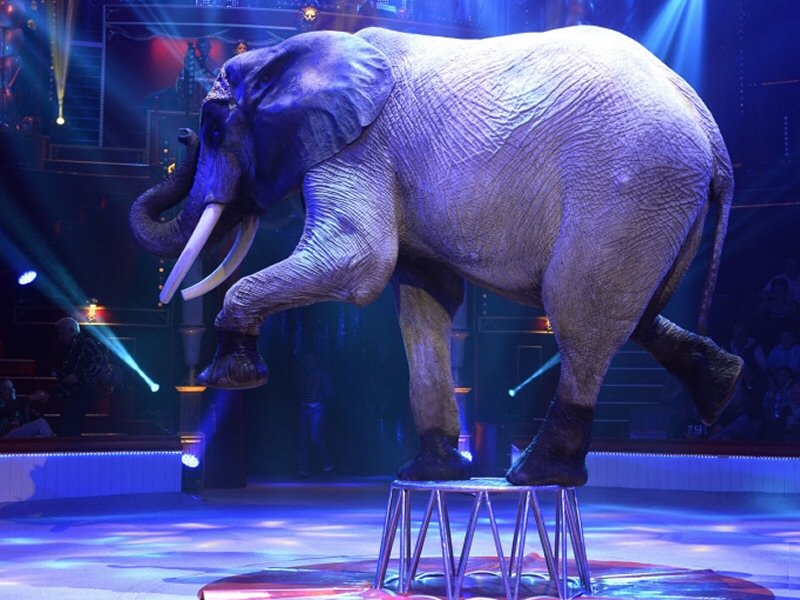 "Standing on two legs on a stool! But how is this possible? For an animal that must weigh several tons? They really manage to make them perform amazing tricks! "
Yes, my poor lady. They really made them do anything. And I don't know who is the most ridiculous in this story: the tamer who envisioned this show, or the spectator who pays and claps his hands? Certainly not the poor elephant that the Bouglione circus is using, trapped in a steel cage since his childhood and tortured daily by his jailer!
If one believes the circus manager who filed a complaint against the association Animalsace for defamation all their animals are healthy and well treated. Have you seen elephants in the bush? Have you studied their behavior? And look now at the behavior of those poor creatures attached and imprisoned!
No, the tamer does not use an elephant, he manipulates a zombie species, a mindless mutant remotely resembling to a wild animal. Do not see any malice on my part; it's the man who made it that way. Elephants are amazing animals with highly developed intelligence and strong character.
And what about the wild beasts? Have you ever observed tigers or lions in circus trucks? Have you ever compared the size of these animals to the size of those cages in which they live their entire lives? What performance is it when a tiger jumps through an ignited hoop? The poor big cat is certainly wondering what goes through the head of his tamer to impose him such nonsense.
The circus Bouglione is now in Moselle, in Metz. Do not make you accomplice of this ignominy. You know now. Prefer circuses, and they are becoming more and more numerous, which highlight the prowess of jugglers, acrobats, precision of knife throwers, flexibility of contortionists or creativity of clowns! No need of wildlife in these events!
So when are we going to stop this circus?